Hello experts!
Here's my story...
My left kidney began to hurt a few days ago so I went to a urologist for consult. After a series of tests, the doctor found 2 stones; 1 blocking the ureter and 1 in the kidney area, via CT Stonogram. Doctor recommended laser/shockwave to dissolve the stones. He said in Polymedic, it will cost 49K including PF and in Asian Hospital its 54K including PF. He also said he will consider removing both the stones for the price of 1 (papakiusapan lang yung hospital).
Oh and he said getting it out from below (using a tube or a hose) is not possible because the stone is too far up the ureter.
So my questions are:
1. Is there a hospital that has cheaper Laser/Shockwave treatment?
2. Will the doctors that I will consult also consider the 2 for 1 package if ever?
3. How much will it cost?
4. Any other suggestions/alternate treatments?
Here is an illustration of where the stones were found (blue circles)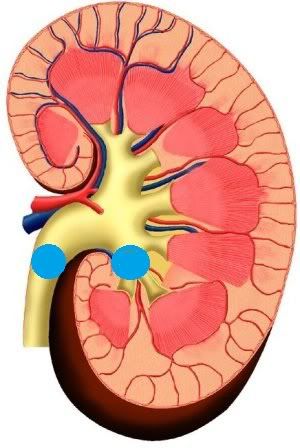 Hope the MTC Medical Professionals (or any fellow member) can help.
Thanks and more power!